Website Audio Greeting
Click Here To Listen (RealAudio)
( ©1986 TM Century Productions, Dallas, Texas. Used By permission)
2014 Reunion Update
What a great night!! Thanks again to Mel Klawansky for putting it all together. I hope to have some pictures soon!!
Allen Stone Video
Here is a link to a You Tube video of a speech that the great Allen Stone gave at The "Broadcast Pioneers Of Philadelphia" Luncheon on October 15 2014 saluting WFIL radio.
**Please note - This is not the official video from the "BP". This was taken by Jon Stone.
When the "Official Video" of the entire Luncheon becomes available, I will post a link to the Broadcast Pioneers site, not the video. It's their property!!
New - Barbara Sommers Airchecks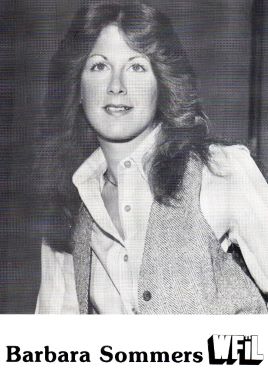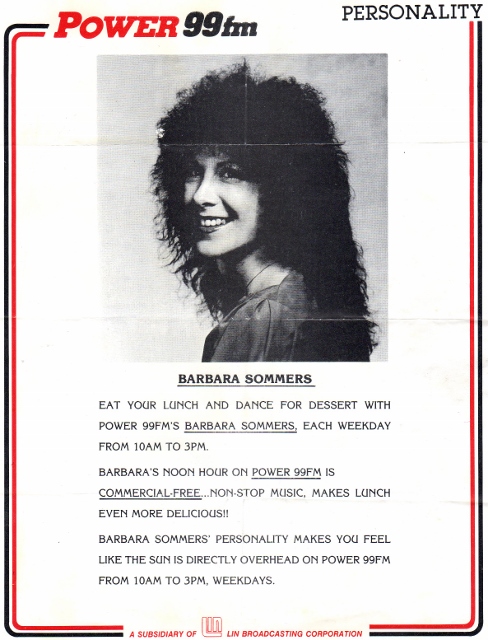 Here are a couple of airchecks featuring Barbara Sommers.
The first is short and from her days at WFIL. The second is from her days at WUSL - Power 99!!
Click Here To Listen To Barbara At WFIL - 1981 (mp3)
Click Here To Listen To Barbara At Power 99 - 1985 (mp3)
One Note From Barbara...."I forgot one funny "title" I had while I worked at Power 99fm; it was "Queen Mother of Life" (totally as a goof). It was mostly used by Beej in the Morning and Loraine Ballard Morrill. I thought it was so funny – they even gave me a mug with that on it."

New - Rare Photos of the Late Jerry Donahue
Thanks to former WFIL engineer Frank Hogan, I am proud to feature some rare photos from the past of former WFIL production Director, Jerry Donahue.
Photo On Left - 1939 Center Photo Horn & Hardarts Childrens Hour Photo on right - Dick Heatherton, Jerry, Larry Kane & Brother Love
"Captain Cash"Jim Sacony Wanted To Share His Hiring Experience With All Of You
Hi this is Jim Sacony, I received an email the other day from a listener telling me to go to your web site, Famous 56 and that I was mentioned in an article written by my former colleague Ken Garrity whom I shared the Prize Patrol duties with in the Summer of 1975. I enjoyed reading Ken's story so much that I thought I would share my somewhat interesting hiring experience with you.

I was hired by the Program Director Mr. Jay Cook in the spring of 1974 however to tell the story I will have to take you back to the year 1967, the place St Matt's Grade school located on Cottman Avenue In Philadelphia where Jay Cook was the Hosting DJ. Every Saturday night the dance drew some 2,000 kids from all over the Delaware Valley and the dance floor was so crowded that they opened the stage area where the crowd I hung with would gather. Each week Jay would said hello and sometimes asks if we had any request, this went on for about two years. Let's forward to 1975, I'm interviewing with Jay Cook for the Captain CASH / Prize Patrol position and he asked me to read for Jerry Donahue who was the Production Manager. After the reading I soon was called back to Mr. Cooks office where he congratulated me and then with a puzzled look on his face asked me if we had ever met before and he was floored when I told him this story

Thanks to Jay Cook I enjoyed a wonderful career in Radio and I currently am the founder of Jamin Gold Radio which airs at www.jamingold.com . I also do a live show every Sunday night form 8pm to 10pm.
Ken Garrity's Email.....
"I was hired by
Gene Vassall ( Sales manager at that time ) in the Winter of '75 to work
with Jerry Hunton, who ran the Promotion department at WFIL at that time.
Actually, Jerry is pictured in Gene's grouping of pics, in the picture where
the Boss Chicks are in the back row and the WFIL Guys are in the front row,
all wearing the same Hawaiian shirts. Jerry had red hair in those days, and
is sitting to the left of Mike Craven ( Sales Guy ) who has on the yellow
pants.

On the right of Mike Craven ( in the yellow pants ) is Tom Monaghan ( Sales
Guy ) and two to the right is Steve Levy ( Sales Guy ). That's right. I
really did work there.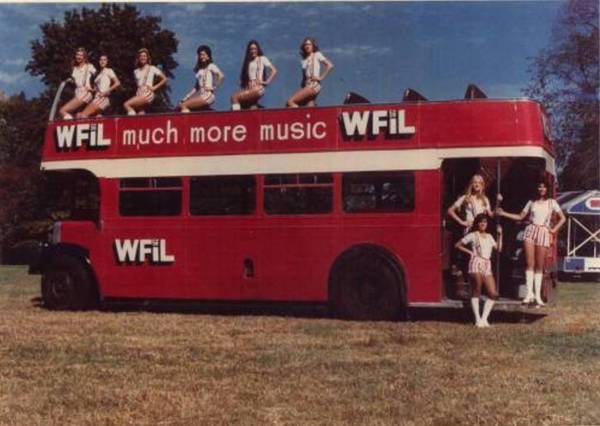 Funny story about how I was hired. I called Mike Craven for over a year
trying for a sales job. He finally asked me one day if I thought I could
drive an English Double-Decker bus. As I had had a construction job while in
college driving big dump trucks, I said of course I could drive one of those
buses. He invited me to the Station to do a test drive. I didn't crash the
bus, and was hired by Gene Vassall.

Jerry Hunton and I spent the next year and a half running all the promotions
for the Station, and had a ball. Then, in the Spring of '76, it was time for
Gene Vassall to figure out who would be driving the Prize Patrol for the
Bicentennial Summer of '76. I was chosen, along with Jim Sacony, to be the
voice of the Prize patrol for the Summer of '76. It was a tremendous
experience.

I performed my first call from the Prize Patrol at the beginning of the
Summer during the afternoon drive-time on the Dangerous Dan Donovan show. In
those days, the " Car Phone " was nothing more than an old Princess Phone
screwed to the center console of our 1976 Pontiac Firebird TransAm Prize
Patrol, with a little round light on it. When it was time for your broadcast
from the car, you would pick up the receiver equiped with a shoulder cradle,
and click the disconnect button until the little light went from red to
green.

Green meant you had an open line, and you would then call in to the Disc
Jockey for him to connect you and then he would do the lead-in to your "
Live-from-the-Prize-Patrol " broadcast. I'm really surprised none of us had
any accidents doing these broadcasts, because they were all done while
driving down some road and following some one. Talk about " Distracted
Driving ".

The Bicentennial Summer of '76 was the last Summer for the Prize Patrol, so
Jim Sacony and I were the last of the Prize Patrol Drivers.

I left Radio in 1981, and have been a Property & Casualty Ins. Broker ever
since. Still in the Philly Area, Married, with two grown Sons. Thanks for
updating the Prize Patrol List to include me. Would also love to be included
in announcements of any upcoming WFIL reunions. If Mike Craven remembers, I
was the driver of the " AAMCO Roadservice Courtesy Patrol ". AAMCO was
Mike's account."
Famous56.com Is Now On Facebook.
New Pictures Of George Michael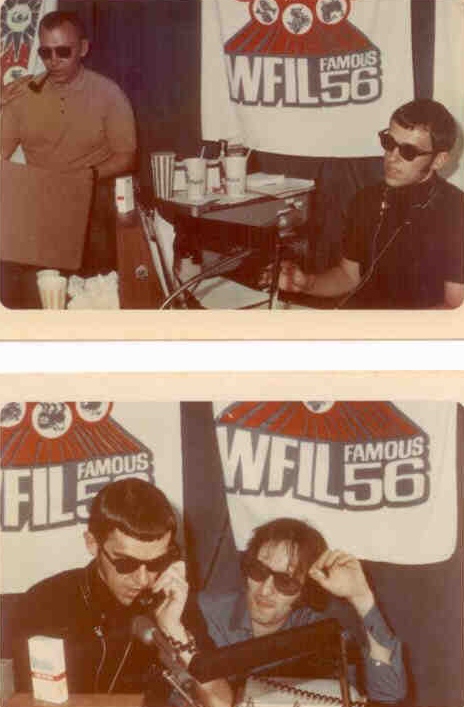 These just arrived courtesy of George's daughter, Cindi Michael Howson.
The top photo George is pictured with Production Director, Jerry Donahue on the left.
Bottom photo with Long John Wade on the right.
Special thanks to Frank Hogan for solving the "unknown person mystery" in the top pic!
New Pictures From Former WFIL Engineer Terry Sklelton
Click Any Thumbnail for full size version.
From Left To Right....
WFIL Engineers Fred Moore & Terry Skelton
WFIL Opening Day At The Shore
WFIL Opening Day Part 2
WFIL Book Cover
Music Power Bumper Sticker
WFIL Postcard, also photo used on Pop Explosion LP
WFIL Party 45
WFIL Party 45 with Invite
WFIL am Transistor radio
WFIL Engineer Bruce Bottone's Contribution

Click thumbnail for full Image
This is It is an original pen and water color painting created by William Woods for WFIL Radio, Philadelphia. 1970
"New" Aircheck!!!
J. J. Jeffrey - March 1970
Here's a new find. Quality varies. This is a mp3. Enjoy!
To download simply right click on the above links and select "Save Target As" and you're all set. Enjoy!
Please keep in mind that only some content with be available due to bandwidth limits. If I offered everything as mp3's I'd have to charge like other sites do!
New Photo From Gary Hendler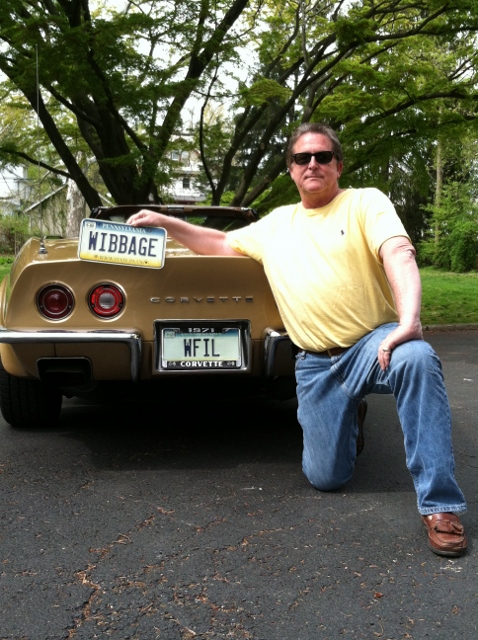 Official PA State Holder Of WFIL & WIBBAGE Tags!!
New Website and Stream - 56WFIL.Com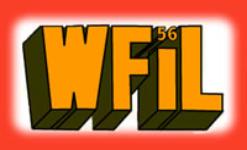 It was bound to happen. Another website has surfaced for WFIL. It's run by Rene Tetro, who is the chief engineer for WFIL and WNTP. The site was started about 3 months ago as a way of preserving the sound of WFIL. They are using the original PAMS jingles too!

Best of luck to Rene and everyone involved with the new site!!
You can visit the site by Clicking Here.
They also feature a live stream! Click Here To Listen!!
Frankie Valli At WFIL 1984 - Courtesy of Jay Meyers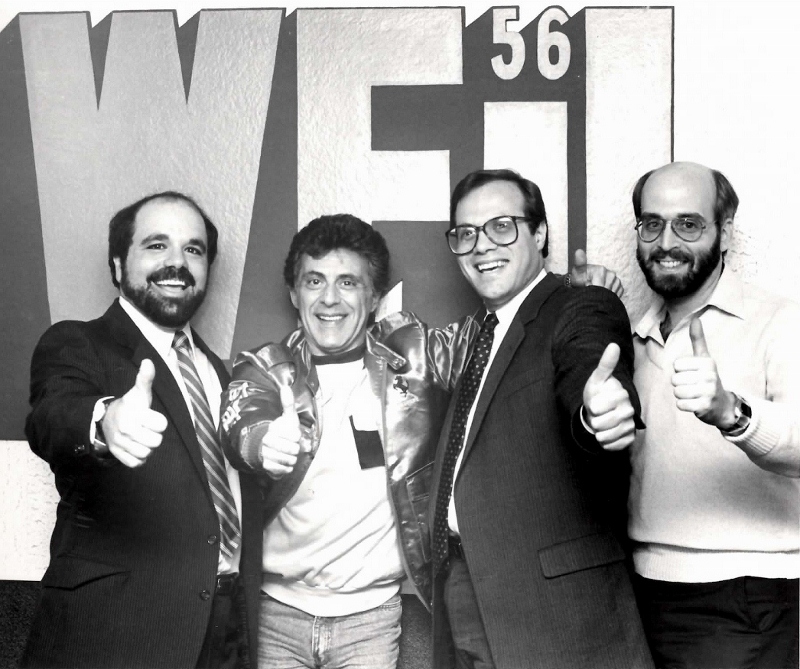 Jay Meyers, Frankie Valli, Bruce Holberg & Bill Neal
New Picture Courtesy of Gene Vassall
The Boss Chicks At Garden State Park - 1974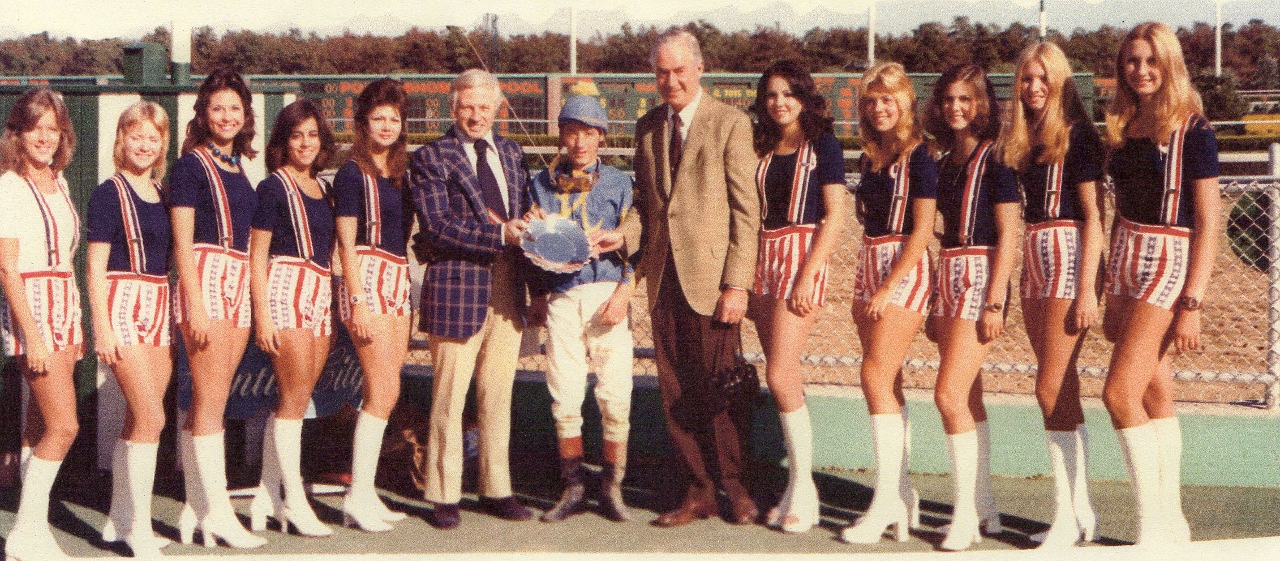 Vintage WFIL Video
WPVI has just posted a video of the early days of the former WFIL/WPVI Building at 4100 City Avenue. The video, which runs over 20 minutes also includes a small segment on WFIL radio. It reminds me of an old science film from my younger days, complete with "classic" background music. Here is the link to view the film:
http://abclocal.go.com/wpvi/video?id=7301016
Thanks to Joe Gallagher and Mel Klawansky for the info!
Then.....1963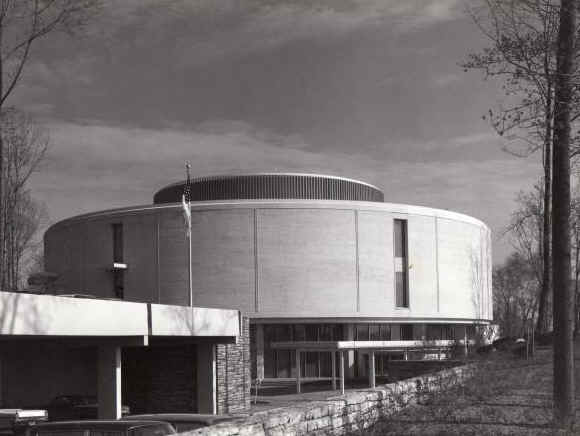 Now..... 2014

(Photos courtesy of Mel Klawansky)
K.C. Hill With A Great Story...
Mitchell (K.C.) Hill sent me a very touching story that I'm sure many of the former WFIL staff can relate to. Please visit my "WFIL Memories" Page to read it. It's well worth the trip.
Jim O'Brien Blooper
Here's Jim trying to record a spot for a restaurant. Thanks to Wayne Cabot for providing this clip.
Click Here To Listen - **WARNING** - Contains "Harsh" Language!
Remember you can find all your favorite WFIL airchecks by clicking here!
WIBBAGE Radio Is Back!
At 94.3 WIBG lives again down at the Jersey Shore. Check It Out!!
Visit their website by clicking here.
**Important E-mail Information**
All E-mail should now be addressed to famous56@live.com.
WFIL TV Spot
Check out the following WFIL TV Spot from the mid 1980's!
(Clip Courtesy Of TechnerVideo)
Double - Click Middle Arrow To Watch!
( You Must Have "Flash" In Order To View. Visit Adobe To Get Free Download)
Special Thanks To Harry Smith Of Daytona, Florida For This Contribution
Banana Joe Comes Through With Rare John Lennon Airchecks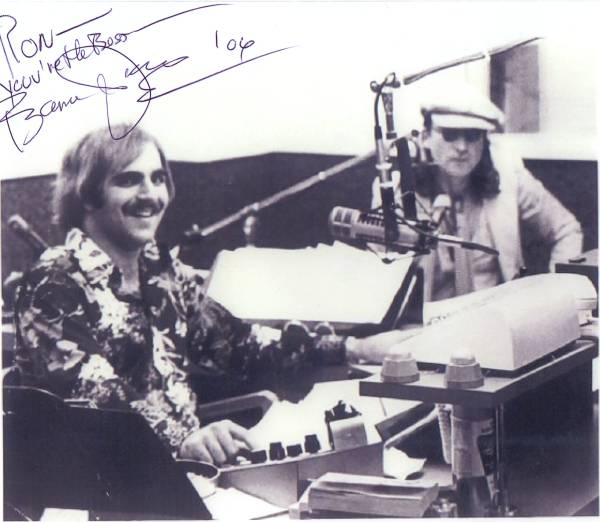 Banana Joe Montione was kind enough to donate some John Lennon airchecks from the 1975 Helping Hand Marathon.
Here is a sample.
Remember This??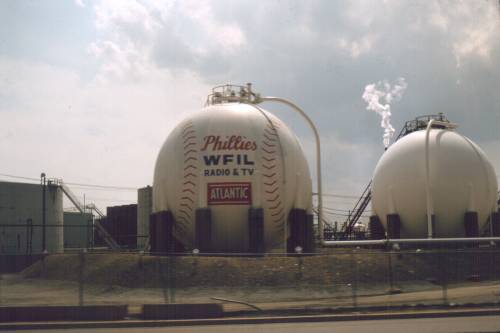 This was taken by Jim Macino, of Columbia City, Indiana, from a bus in 1967. Jim was on his way to serve in Vietnam.
WFIL Coverage Maps
Thanks to Dave Shayer and Art Wilson for sending these for the website. WFIL was only 5000 Watts!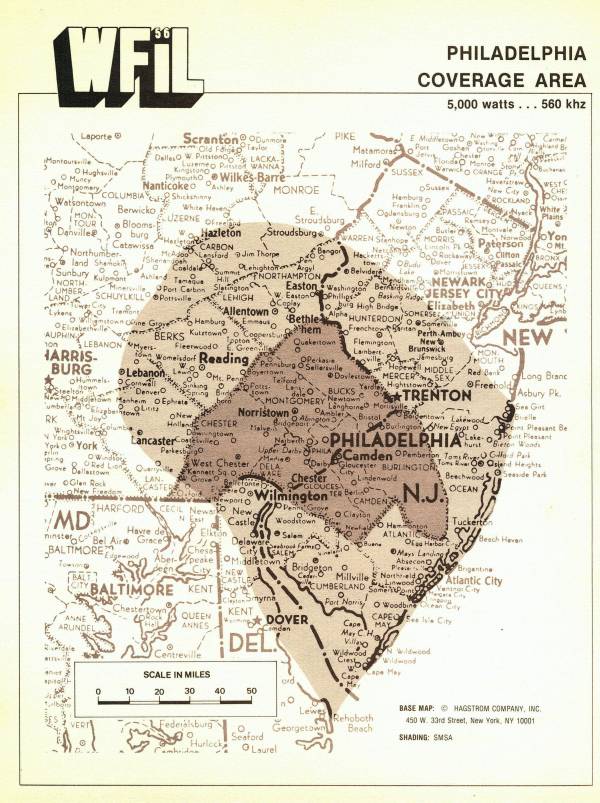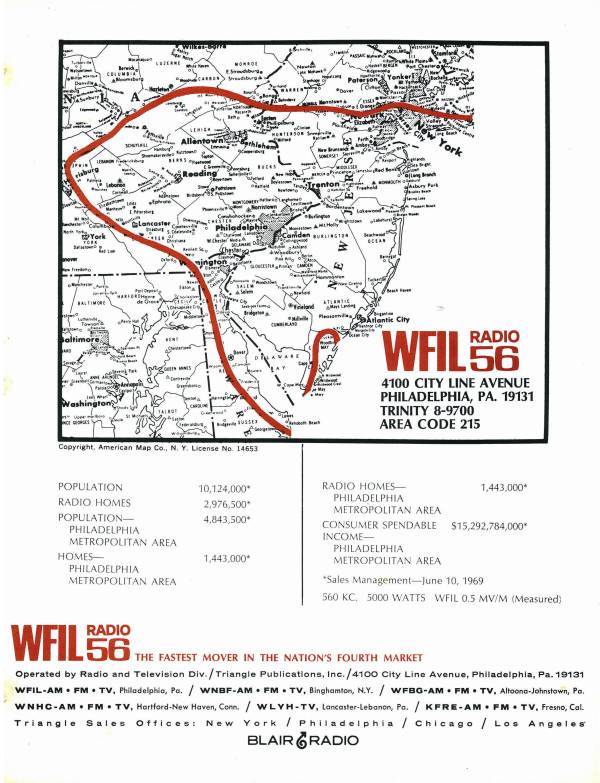 What Happened To The WFIL Double - Decker Bus??

Then....

Now....

This was taken in 1993 by Vince, of WAMS/WRJE. The bus was located in a field on Route 50, in Easton, MD.

What Happened To The "Other Boss Bus"?

Here is a great story sent to me recently by Gary Bowker.....

In 1984 I worked for Borkon Truckarama on Route 73 in Maple Shade N.J. In the back right hand corner was a big red Double Decker bus. As I walked up to the bus I could clearly see the "WFIL" logo and as I entered I saw a small sign with "boss bus #2 I remember seeing boss bus #1 and #2 and the mustang on the old albums. One day I asked the manager about the bus. Whoever owned it after WFIL, owed Jerry Borkon owner of Borkon Truckarama some money. He did not have the money and Mr.Borkon took the bus He just put the bus in the back and forgot about it.

One day the manager asked me to go out back and cut it up into pieces with the torch. I really did not want to do this. It's a part of Philly history. But I got to do what they tell me to do so I spent 2 days cutting it up into pieces. It was in real bad shape...no glass, the steps were rotted out (found this out the hard way) I wish I took some pics back then. I remember looking into that bus thinking of all the fun people had in it.

Thanks to Charlie Mills for this great photo, from the 1968 Philadelphia Inquirer.

Randy Roberts WFIL Production Is Back.

I've decided to put this special presentation back on my home page. It really captures the feeling of Famous 56. Produced by former WFIL/WUSL Jock, Randy Roberts. A must to listen to!!

Capturing The True Sound Of Famous 56! Click Here To Listen.
Site Contributors
A Special "Thank You" to all who have contributed to my site, especially Chuck Gagliardi, Bruce Northwood, Marc Howard, Randy Roberts, John Pizzi, Mel Klawansky, Frank Hogan, Ralph Michaels, Robert Arden, Joe Flaska, Diane (John) Heiler, John Flack, Bruce Rubin, Dave DeCaro, Paul Kovacs, Bob Hickerson, Eddie Coyle, Steve Ross, Roy Akins, Charlie Mills, Gary Hendler, Bill Langill. Ted Winkler, Jake Schwartz, Tony Davis, Les Waas, Bob Hamilton, Bill Cain, Rich Franklin, Carmen Malizia, Tracy Carman, Gene Vassall. Cindy Brumm, Bob Kravitz, Dave Shayer, Joyce (Haverdink)Klawansky, Banana Joe Montione, Joe Gallagher, Jim Macino, Wayne Cabot, Harry Smith, Kevin Fennessy, Roger Hendler, Hank Bashjian and Doug Neatrour.

Also, special thanks to Paul Venuto, who spent countless days "breaking" me into the world of computers. If it wasn't for him, this site would have never been created.

Thanks, Paul!

To listen to any audio on my site, you will need the "Realplayer", which is available as a free download below.


A Brief History,

Rockin In the Cradle Of Liberty, WFIL,Philadelphia, Non-Stop Music, The Pop Explosion, The Helping Hand Marathon. These are just a few examples of what made WFIL, so famous in the late 1960s, and in the 1970s. Hello, I'm Ron Turner, and welcome to my small piece of cyberspace. WFIL was such a large part of my life , that I found it appropriate to dedicate some web space to it. If you grew up in the Delaware Valley Area, I'm sure you remember " Famous 56". Who could ever forget George Michael welcoming us to a Friday night? The morning antics of Dr. Don Rose, and LU-LU Belle? Not to mention, the Unforgettable voice of "Allen Stone, WFIL, News". And of course, Who could ever forget Jim O'Brien.

The "Pop Explosion" was born on September 18,1966. WFIL, was up until then, a "middle of the road" station, playing standards, with a little rock and roll mixed in. But on that fateful morning in September, WFIL began its' journey to become one of the greatest stations in the nation. With a tight format, great personalities, and fantastic jingles, WFIL took over the number 1 spot in Philadelphia radio, a spot formally occupied by WIBG. The list of greats that graced the microphones of WFIL is much to long to list. The ones' listed here, had a lot to do with the success of the station. Unfortunately, sooner or later, all good things must come to an end. In 1977, WFIL changed formats, to reflect what management felt was the needs, and desires of the Philadelphia listening audience. Disco, and FM stereo, were taking over at the time. WFIL switched to an early type of A/C station. This , however, didn't work either. Next, it was time to try a country format. "Philly 56 Country" was born, and lasted for a year. Then came various other formats, until one night, on September 3, 1983. At 6pm, The "Boss was Back"! Famous 56 had been reborn. It seemed like a great idea at the time. The radio market in Philadelphia was boring, to say the least. Why not bring back "Famous 56"? It was a gallant attempt, but just wasn't the same. The glory days of WFIL could not be recreated. Now in 2014, WFIL is now broadcasting a religious format, and is now owned by Salem Communications in Lafayette Hills, Pennsylvania.

Behind The Scenes

In addition to the air talent, there were many folks behind the scenes that helped make WFIL the success that it was. One of the most important was a man by the name of Jerry Donahue. Jerry was Production Director at WFIL for over 30 Years. It seems that everyone who worked with Jerry over the years has a story or two to tell. All of which end with a warm smile and a fond memory. Even though Jerry is no longer with us, his contribution to the history of WFIL is one that will live on forever.



Site Navigation


WFIL Record Album Covers
The WFIL Boss Chicks


WFIL Boss Jocks
WFIL Memories
Where Are They Now?
The 1975 Helping Hand Marathon Featuring, John Lennon
Jim O'Brien Tribute
George Michael Tribute
WFIL Engineers
WFIL News Team
Here Comes The Prize Patrol
WFIL Scrapbook Page 1
WFIL Scrapbook Page 2
WFIL Scrapbook Page 3
WFIL Scrapbook Page 4
WFIL Scrapbook Page 5 - The Mel Klawansky Collection
WFIL Scrapbook Page 6 - The Randy Roberts Collection
WFIL Scrapbook Page 7 - The Gene Vassall Collection
WFIL Scrapbook Page 8- The Bruce Northwood Collection
WFIL Scrapbook Page 9
WFIL 2002 Family Reunion
WFIL 2006 Family Reunion
WFIL 2011 Family Reunion
WFIL Surveys
The Boss Is Back?
WFIL Aircheck Index (Listen To Your Favorite Boss Jock!!)
WFIL Jingles (The Song Between The Songs!!)
Sounds Of Philadelphia
My Favorite Radio-Related Websites

If you have a special memory of WFIL, or if you would like to contribute something, such as pictures, airchecks, surveys, etc., please send me an e-mail. Thanks!

Don't Forget To Check Out The Classic Philadelphia Radio Website, For More Info On WFIL, WIBG, Etc. Just Click The Banner Below.


Please note; This site is in no way affiliated with WFIL, owned by Salem Communications, and broadcasting a religious format on 560 AM, in Philadelphia.

Famous 56.Com Protected By Federal Copyright

Please keep in mind that this, and all pages on my site are ©1999-20

14 Famous56.com. The jingles, and airchecks are used by permission, from their various copyright holders, if known, and may not be used without the consent of the webmaster. No claim is made for material that has been donated to me, for use on my site. For more information, or to report an offender, please contact;

Library of Congress
Copyright Office
Register of Copyright
101 Independence Ave., S.E.
Washington, D.C. 20559-6000

This material is presented as an historical tribute, and complies with current copyright laws, regarding "Fair Use", and "Incidental Use" of copyrighted material. Information presented at this site is for research and enjoyment.

If you are a copyright holder to any material on my site, and wish to have it removed, please send me an e-mail.

You Are Visitor