Remembering George Michael
1939-2009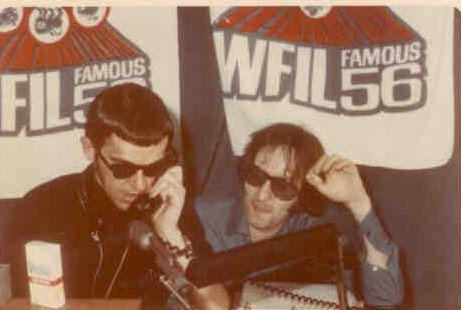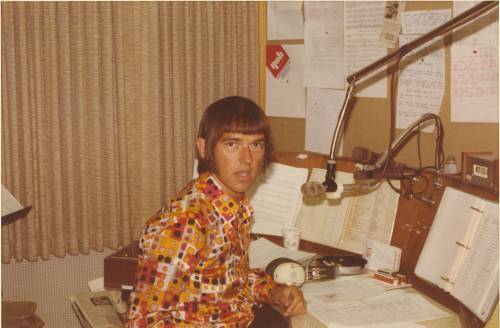 George Michael passed away on December 24, 2009. George had Leukemia and fought to the end to beat it, just like in the old days, when back in 1966, a group of disc jockeys were brought into Philly by programmer Mike Joseph to create a sound like no other in AM radio. Along with Jay Cook, Long John Wade, Frank Kingston Smith, Dave Parks, & Chuck Browning, George and the others were here for one purpose - to defeat WIBG. Not only beat them in the ratings, but to unseat them as the dominant radio station in the Delaware Valley. Did they succeed? You bet!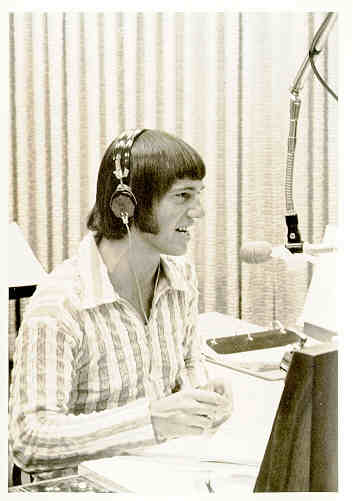 The story of George Michael at WFIL is an interesting one. He arrived in Philly on September 1966, and departed in September 1974 for a job at 77 WABC, in New York. George worked the 6PM til 10PM shift. No one could talk up a record intro like George could. High school sports? George was the "king." George would do segments on his show dedicated to high school sports, and cover them with intense detail and insight. I remember growing up in Northeast Philly, with the AM radio cranked up loud waiting to hear who won the Lincoln/Frankford football game, or the Father Judge/North Catholic game. Not only did you get scores, but George told you who scored, and detailed the coaching and players for every school in the Delaware Valley. People connected with George probably more that any other jock at WFIL, with maybe the exception of Jim O'Brien.
George Michael was WFIL. The energy he displayed, the strive for perfection from not only himself, but for all who worked at WFIL, was evident in the many, many stories that are told by the folks he used to work with. That's what this page is all about. The stories, the memories, and all the good times as told by the many engineers, and former staff of WFIL Radio.
Lets get started with my tribute to George Michael from his days at WFIL....
(All Audio Files Require Real player)
Just Found!
Here is an extremely rare tape, put together by The Late Jerry Donahue. "The Michael Tapes" was created back in 1974 as a going away comedy tape for George Michael. It features Larry Kane, Jay Cook, and many interesting sound bites.
Thanks to Kevin Fennessy for this rare contribution!
This tape contains a bit of harsh language. Enjoy!!
Between The Periods
WFIL's 1st novelty record about The Philadelphia Flyers - Narrated by George Michael!
Thanks To Mel Klawansky for this rare 45!
©1973-74 WFIL Charities Inc.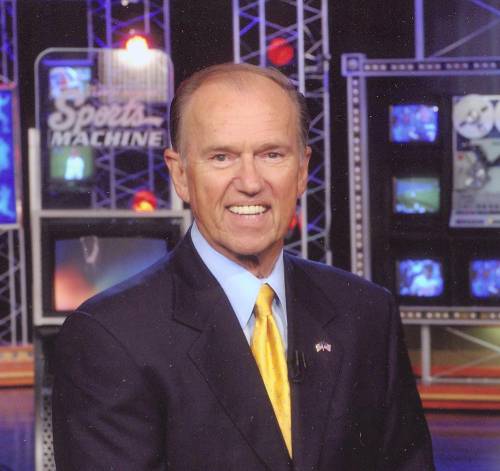 His Final Sports Machine Show On YouTube
His Final Sportscast on WRC, in Washington On YouTube
I received an email from George's daughter Cindi.

She told me about a brand new book she wrote about her life and her relationship with her father.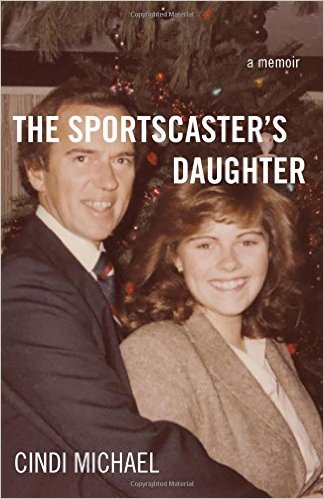 For those who are interested it is available from Amazon.

Here is my aircheck collection of George Michael. Click any file to listen. (RealAudio)

Your Comments...

In addition to the loss experienced by family and friends, the deaths of the Boss Jocks represent something profound. With them passes a philosophy of radio as an exciting and personal medium. Personalities with credibility and style to whom listeners can relate. REAL localism. Entertainment. Much of the crap that radio is going through is an inside job. Operators eviscerated too many music stations, bottom lining them, and squeezing out anything compelling about them. The idea that radio became a spot-carrying commodity was not forced upon it by advertisers, though. Advertisers wanted efficiency in delivery and results for their media dollars, and it was up to radio to decide how they wanted to go about designing the product to fit. I realize that there are a lot of generalizations here...some maybe unfair...but the loss of major air personalities has paralleled the loss of an important element of what made...makes radio great. After all, over 90% of Americans STILL listen to terrestrial radio.

This makes me very sad, both as a listener and somebody who still has a toe in the water. Does anyone else out there wonder what would happen if a station...relevant to today...were to jump out of the dial with excitement and personality?

Bruce Holberg

Very sorry to hear about this! George was an amazing talent!

Bruce and the group ...

I would love to see someone really try this and see if it works! I
have lots of
neices and nephews -- 15-19 years old, who have returned to radio as they are
"bored" with iPods and Internet radio.

Wonder what would happen if what Bruce outlined above was presented on a great
signal, with all the marketing needed to create the local buzz that stations
like WFIL were part of and provided.

Food for thought -- I'll have a second helping, please!

Merry Christmas to all


Joel Denver

Reply From Bruce Holberg......

Hi Joel!

You know, it occurs to me that there what is old becomes new again. Maybe there is a cycle to all of this. The neat thing is that the delivery systems all match up...on-air, online, and via iPod. So what is more important...the content or the delivery?? Theoretically it is all three, but it doesn't make sense to me to buy a station only so that you can have the website and streaming that go with it.

Bruce Holberg

Sorry to hear about George. It was a special time we all shared with these jocks. How fortunate we were to have worked and laughed with them!

Mort Palin

What a loss, a superior talent that influenced many of us jocks. I met him only once and he was kind and generous with his time. Many years later when doing his same shift at WFIL I could still feel his influence in the room. As long as he is remembered he will still be with us.

Mitchell "KC" Hill

George Michael will never be again in the history of radio. I am so lucky to have worked with George in both radio and TV.
To think I feel so lucky and blessed to have spun those 45's for George at WFIL Radio and was honored to have worked with "King George" on his nationally syndicated TV show, "George Michael Sports Machine".
George was the first here in Philadelphia to put me on the air talking sports. George along with Jim O'Brien were my two mentors.
There will never be another.

Howard Eskin
WIP SportsRadio

OMG, what a shocker! As many of you know, George was a presence at recent Broadcast Pioneers luncheons in Philly. He seemed quite fit, robust and in good health. But as Chris Rock is fond of saying, "Ya neva know."

King George was certainly an original and will be sorely missed. Condolences to his family - God knows how tough a punch this was, coming at what is usually such a festive time of year.

Finally, this year has truly wreaked havoc on our industry as so many of our broadcast brethren have sadly passed away. Let us hope and pray that next year will bring far less sad news.

Happy New Year to all and may the best thing that happened to you this year, be the worst that happens to you in the coming year!

Steve Ross

What horrible news to receive at this time of year. Quite simply, growing up, George Michael was one of my heroes, and along with Joey Reynolds (when he was at WKBW), and later Jay Cook (as PD) is directly responsible for me making radio my career. I remember George's first show on Famous 56 (started at 6:20p because they still had the ABC news block at 6, my first time sitting in the studio with him (1970) and even his first show at WABC in 74.

When you look at the original boss jock line-up, its tragic, and a bit eerie, to know that 10am-10pm have now passed from cancer (Cook, Nettleton, Michael). And, as I recall, all three were pretty heavy smokers.....I guess a lesson for all of us.

Pure and simple, for my money, George Michael was the greatest Top 40 jock in the history of radio. Creative, funny and the tightest ever......you can count on one hand the times he missed a post in his career.

Jay Meyers

President and CEO

Broadcast Management & Technology

George was a special person. He knew what he wanted to do and where he wanted to go in life. Walking the hallways of WFIL, he had that contagious smile and always a greeting of encouragement. He was loved and will be missed. I hope all our passing jocks are together and having the time of their eternity.

With love George, I bid you goodbye.




Bob Kravitz

When Frank Sinatra died a relative said: "Boy, you know when Frank dies, you realize that none of us is getting out of here alive."

George was such figure in the radio world that his passing elicits a similar feeling among "radio people".

I remember so well when he brought in a tape of a play-by-play of a high school basketball game he had done and wanted some of us to hear part of it to hear what we thought. He had realized that sports was calling out to him, but wanted opinions as to whether he should try for a sports position--after all, he was already successful in a completely different field of the business.

Well, I am not even a sports fan, but when I heard this play-by-play, I was floored. He made everything sound so damned exciting, you knew this was just great radio and that if you came across this guy on the air, you'd listen--interested in the game or not.

Later, I told him: "George, as good as you are as a jock, I think you'd be crazy not to pursue sports."

The sports world was, I am confident, happy he made that choice.

He is being missed already.

Tom "Tyler" Melanson

I spoke with him just a few days ago and while his voice was a little weak, his spirit was high. He was planning to be a surprise panelist at our January 20th sports luncheon if he woke up that morning and felt well enough.

We in the broadcast industry and sports fans alike will miss him. George Michael was really a king in our industry and market. We are saddened by his passing but a smile will still cross our faces whenever we hear his voice. Details and a tribute on our website.

All the best

Gerry

Gerry Wilkinson

President

Broadcast Pioneers of Philadelphia

George's passing takes me back to my best, most successful and most productive times in all the 36 years I spent as the morning prime time newsman at WFIL. I enjoyed the privilege of working side by side with the greats — Phil Sheridan, Jim O'Brien, Dr. Don Rose and Joe Niagara, to name a few. But, no era in all those years remains more imbedded in my memory than the thrill of joining the Boss Jocks in elevating Famous 56 to number one in the entire country. George's contribution to that effort stands as a beacon whose talent and dedication were exemplary.

Allen Stone

Wow.

This has been a tough year for a lot of folks... and losing those guys really brings it home for me. I worked with all of them and knew some quite well. And now they're gone.

That was a tremendous era for radio...but it also began the slow decline of the medium. Top 40 was the first format that involved any kind of research to determine what music to play. Prior to that, DJ's had the freedom to choose the music for their shows, which led to the introduction of much of the Rock/Soul sound. Top 40 also led to the development of Liners, which had to be incorporated into a Jock's presentation. I always felt those two elements, liners and tight playlists, led to everything that has followed.

To me, the true genius of all those great talents was their ability to weave their own magic around the required elements of the format to become personalities despite the Top 40 limitations. Each one of the men whom we've lost this year had a unique sound, presentation and personality that somehow came through the speakers within the strictures of playlists and liners. My fondest memory of George is the way he made liners sound as though he just made them up. No one said "All-Hit Radio" quite the way he did. And of course, for those of us who were around in the mid-70's, the way he said "orange" became a classic drop-in.

My time at FIL was brief and bittersweet. I was not one of those talents who could create a persona in :07 intros. Hitting the post was often a real challenge for me. They always made it sound so easy and smooth.

But as I get older, that time with Jay, Jim, Dave, Dan, George, Joel, all the engineers and news people becomes sweeter and less bitter. They truly were magnificent men of music and provided all of us a brief time of clarity and excitement during some tough times. Just listening to FIL made people smile- you could see it at events, you could hear it on the phone, and you could read it in the letters. Does anyone feel that way about any radio station today? I'd guess not.

Goodbye George. Just remember, "It's the hair, man".

Kris Chandler

It was like a punch to the solar plexus when I heard of George's death from Mel. Like so many of his former colleagues and friends around the country, I didn't even know he was sick. We hadn't spoken for years. I had to stop and regain my composure.

I had the wonderful privilege of knowing and working with George in 1971 at WFIL. That was the year Famous 56 reached the summit of its broadcasting glory as the industry awarded us the coveted "Station of The Year," radio's Medal of Honor. George was a remarkable radio personality and dominated Philadelphia ratings at night. He was also a leader among the greatest air staff ever assembled. The lineup was Dr. Don Rose 6-9, Jim O'Brien 9-Noon, I did Noon to 3, Dan Donovan 3-6, King George 6-10, Brother Lee Love 10-2 and Dave Parks 2-6. Jay Cook PD (the best ever). I went out to KHJ-LA but came back to WFIL in 1978. George had left for greater heights but visited the station often. Everyone was always glad to see him. His voice, energy and smile will remain with me. George was an incredibly talented man who loved his profession with a passion and he was a real inspiration to those of us who looked up to him. Personally, he was a kind and generous man with a great laugh and sense of humor. I know I speak for all of us when I say he will be greatly missed.

George was a shining star during what many of us believe was the greatest era of Personality Radio. He now joins several WFIL alumni who have gone before him: Jay Cook, Dr. Don Rose, Jim O'Brien, Jim Nettleton and Jerry Donohue. These were the guys who laid the foundation of WFIL, in my opinion, the greatest radio station in the history of the world. Being a Boss Jock at Famous 56 is a badge of honor I will cherish all my days. I know everyone else who ever worked there feels the same. My prayers and thoughts today are with George's loved ones. They miss him most of all. Please join me in that prayer.

Blessings,

Tom Dooley

Please allow me to reintroduce myself...it's Tony Macrie. I am the person that provided just about all of the mobile / remote "live" sound for WFIL for approximately 11 years! This includes, but is certainly not limited to: Happy Hours, Great Balloon Races, Old Newsboy Days, Miss Great Adventure Pageants, Helping Hand Marathons, Christmas Parties, numerous PR events at malls, shopping centers, car dealerships, restaurants, high school dances, clubs, lounges, etc., etc. throughout the tri-state area! This list is off the top of my head; however, I did keep records of every single event I worked for WFIL! Again, just from memory, I worked with: Banana Joe, Brother Love, Dave Parks, Tom Tyler, Tom Dooley, Joel Denver, Geoff Richards, Tony Mann, Dennis Cahill, Randy Robbins, Eddie Coyle and, of course, George Michael (just to name a few...I'm certain there were more that are just escaping my memory at the moment....I apologize). I can remember one event that I was working for WFIL. Jim DeCaro was present and walked up to me to tell me what a great job I was doing. Well, being low on the "food chain" at WFIL, I always took the low-keyed (read: "humble!") approach when talking about my involvement / relationship with WFIL. I said to Jim (Mr. DeCaro at that time!): "thank you very much, Mr. DeCaro, but I'm just a small cog on the WFIL wheel." He replied (and I will never, ever forget this!): "Don't be silly, Tony. What you do for us is just as important as what we do on the air as it gives the listeners a chance to see who we are and what we do." What a great compliment to receive from none other than Jim DeCaro!

I am deeply saddened to learn of the passing of George Michael! I truly consider it not only a pleasure and a privilege; but an extreme honor to have worked for WFIL, and the likes of George Michael! I can tell you, Mel, that when I did a job for WFIL, we ran it "hot, tight," and in a professional a manner as possible! We utilized jingles, drop-ins, legal station ID's on top of intro's, etc., etc! The jocks (and other WFIL talent, management and staff) were totally impressed in how we took a "road show" and turned into sounding like it was coming from the studio! The ultimate compliment came from the listeners who attended those events, approaching either the personality or myself (at least a half dozen times per event!), and asking us if this is "on the air!" Those certainly were "the days," Mel! If I didn't have a great memory (thank God!), a few photographs and documentation; it would be hard to believe those days ever happened; and, that I lived through what I truly believe to be the "glory days of Top 40 radio!" I can honestly tell you that it was nothing less than a thrill being a "young kid" in my 20's, to be associated with and employed by WFIL; and to receive a paycheck for many, many years, from WFIL Radio! The sad fact of the matter is that, as a kid, it was a lot of fun, but..I didn't realize until many, many years later how very fortunate I was to be in that position, and how it would significantly affect and impact (in a positive way!) just about everything I did for the rest of my life! God...just talking about it makes me miss those days...so very much! This is another one of those clear-cut examples of how you really don't miss something until it's gone. I guess a good way to summarize it would be that "back in the day," I enjoyed those times, had a lot of fun, and really could not quite comprehend the fact that I was getting paid for "playing records" and doing something that I really, really loved! Today...it's more of a "respect and appreciation" of what I did, and how the many, many people in the industry that I worked with really, really touched my life!

Now, on to George Michael. I guess it's just a sad fact of human nature (that I'm certain we're all guilty of), that it takes the passing of a friend...a colleague, to evoke stories, memories and experiences of that individual. Such is the case with George Michael. Again, I had the pleasure, privilege and honor to work with George countless times over a six-year span. I did numerous high school dances with George (yeah!...can you believe it?!...knowing what we know today...."spinning records" at high school dances with George Michael?!). I even did a few "clubs" with George; I'm most certain that his favorite being the Roman Room of The Coliseum, in Voorhees, NJ. We did this for several years, including (believe it or not!), even after George left WFIL and went to WABC in New York! I remember him calling me one day and asking me to meet him at the Country Club Diner in Voorhees (one of his favorite "haunts"). At that brief meeting, George revealed the fact that he was leaving WFIL for WABC. Aside from being in shock and dismay that George was leaving WFIL; I was very concerned for the future of the club we were doing every Friday night at the Coliseum. Well...George had it all figured-out! At that time, he told me that immediately after getting off the air at WABC, he would get to the club as fast as humanly possible...and...he did!!!! In my best estimation, he made it from Manhattan to the Coliseum in about one hour and a half / one hour and forty-five minutes...tops!!!! Can you believe this?! Talk about determination!!! I have so many great stories about George that I would really enjoy sharing with you, but I don't want to do so just in this one e-mail. Please let me know if you want more...and hopefully I can deliver. Okay....one more (for now!): When George and I first started to work together, he basically told me what it was that he expected of me. And believe me, Mel, I got the message "loud and clear," and never, ever deviated from the "norm" of what George wanted! Case in point: The Coliseum. When George would get off the air at WFIL, I knew exactly how long it would take him to get from City Avenue to the club (I did have a 'little" more time when he was driving from New York!). Per George's format, I would start the music at 9 or 9:30 PM (can't remember the exact time without looking at my records), but...I would start with a few "medium tempo" dance hits, while saving the "monster hits" for George! Close to his arrival time, I would get George's favorite records ready (yes!...I did say "records!"), that he would start the show with (and I don't need to look at my notes for these!). He would start by talking into: "Come and Get Your Love" (Redbone), followed by "Doing It To Death" (Fred Wesley and the JB's), followed by "Think About It" (Lynn Collins). God help me if anything happened to any one of those records (i.e., scratched, broken, etc!) After that, it was more or less "playing it by ear," with either George suggesting a song, or me suggesting a song to George. The final song of the evening at around 1:30 or 2 AM (again...I'm guessing on the time, without looking at my records), was always, and I mean always: "Touch Me In The Morning" (Diana Ross)! And I'll tell you, Mel, we ran this show like it was "on the air!" Hot, tight, no dead air, no "mess-ups," (except for an occasional dancer crashing into the table, causing the record to skip!). And I must tell you that when that happened (usually two or three times a night, unfortunately!), George would literally jump-off his bar stool and politely suggest (tell!) the dancers to "back-up!" But, frankly, the Roman Room was jam-packed (and I mean that literally...jam-packed!), every Friday night...and George loved every minute of it, as he was in his "element" and "true form!" And remember, Mel, this was long before the impact and the music of "Saturday Night Fever!" With regard to sound...nothing "high-tech," just two turntables, a mixer, a power amp, a microphone (I have a great George Michael / microphone story that I'd like to tell at a later time!), two speaker columns, lots of 45's and LP's, and many "prayers" that nothing would "crap-out" while working with "The King!" I must admit, at that time (and for that era), I did have really good equipment! I had to, after all!...I was working for WFIL! Again...nothing "high-tech," because there wasn't anything in the mobile field at that time that was anywhere near "high-tech!" High-tech to me was having a "cue system," which I did have at that time! Getting back to the Coliseum (just once more...for now), George, of course, would leave a short while after the last song, spending a little time shaking hands and giving "hugs and kisses (appropriately)" to his fans! His usual last words to me were: "good job" (you have no idea how grateful and thankful I was for those two words!), followed by "Country Club" (meaning we would meet and hang-out at the Country Club Diner after the job, which was just a short distance from the Coliseum). I must tell you, Mel, that being able to relate just some of the many, many memories I had working with George is a mix of a very rewarding and nostalgic feeling, with a bit of "somber and mellow." Somber and mellow because as much as we all hate to admit it, there will never, ever again be anyone like George Michael! In summation, George was a true, hard-working professional! Three words come to my mind in knowing and working with George: drive, dedication and determination! Working with George was "massively influential" in the work ethic I follow, practice and abide by today in my business. George certainly had a positive impact on my life as I did learn quite a bit from him. I proudly learned the true meaning of the words: commitment, responsibility, respect and professionalism. I can honestly make the statement that although we only worked together for what now seems like a "drop of water in the ocean of life," it really was a "lifetime" of wealth, knowledge, experience and information. I am a better person today...thanks to having the privilege of knowing and working with "The King"....George Michael!

Mel, I have many more experiences of working with George (and WFIL, for that matter!). Please let me know if you would like to hear them, as I am most certain I will have just as much fun relating them. Thank you so very much for taking the time to read this lengthy (but hopefully fun and informative) e-mail. It was an honor and a privilege to relate some of the fascinating stories of working for WFIL, and with George Michael! Remember...I have more!

Please feel absolutely free to keep in touch...I will do the same!

With regards and respect,

Tony Macrie

The sad and shocking news about King George, and the resulting chain of emotional emails, has certainly stirred powerful memories of a cherished time in our lives. George was larger than life, and I've never met anyone else who had a greater passion for his work. I was a student at Penn when the Boss Jocks stormed Philadelphia. They motivated me to choose radio as a career path. When I was running WXPN, we teamed with Long John Wade to bring "Magical Mystery Tour" to campus. After graduation, I was privileged to work as Allen Stone's morning news editor for a year in 1971, and then went on-air for a year, taking over Randy Brock's overnight shift. That's when the FCC still had time requirements, and I was doing 10-12 minutes newscasts every hour. The late Jack Hyland was our News Director, and, just as the Boss Jocks were an amazing team, so were the news guys...Allen Stone, Fred Lowrey, Glenn Barton and Ira Melhman. Glenn Brenner (who had to be called Matt, because we already had a Glenn on the air) was driving the Prize Patrol. What an honor it was, and still is, to be a small part of the group that made radio history. Thank you, George.

Art Sando

I just wanted to jump in and agree with everyone, that George was a total professional. I know because like other engineers, I sat in that control booth from 6-10pm many nights and I will tell you that the grey hair started to sprout back then. What a perfectionist he was. prep spotlight on sports. yikes! so much energy…such a dislike for things less than perfect. I am really saddened to see him step out of the spotlight, as Jim did recently. I guess having had the opportunity to work with these people will always be a part of me…and that extends to everyone I have worked with....when I started in 1967, the only original jock I failed to work with was chuck browning…he had already left WFIL when I started…god bless you George, I hope someone is planning a reunion up there. (Mel)?

Chuck Benner

Hi All....

While we have our memories of working with George from 1966 to 1974 or somewhere in between, people here in Washington had him to enjoy for 27 years. Here are more links to WRC's site for memories they've produced since his death:

http://www.nbcwashington.com/news/sports/Longtime-NBC-Sports-Anchor-George-Michael-Has-Died-80061587.html

http://www.nbcwashington.com/news/sports/George-Michael-An-Appreciation-80080817.html


I still don't know why in January 1974 I was put on the shift that ran the board for George's show, for what would be his last nine months at WFIL. After all, I had only been hired nine months earlier on the shift that was on the board four days a week on the overnight shift and one day for afternoon drive, and I was a very young 23 years old....and George had the reputation for chewing engineers up and spitting them out.

I remember the first night across the glass from George: he cued me for everything....commercials inside of stop sets...the jingle...everything. After maybe 15 minutes I said that he didn't need to do that....that I knew the music and I knew the format...and most of all I knew that the audience didn't know that I existed. I told him that if I made a mistake, it would appear to the audience that HE had done it....and I would NOT allow that to happen. Until he left in September, that shift with him was magical.

As summer '74 proceeded, he had just met Pat Lackman, the music was great, WABC was calling, and he was in full form every night. Periodically, he'd tire of the music book and tell me it was time for "Stump the Jock". I could pick ANY song...new or old...#1 or anything else that was in the two oldies filing cabinets....as long as it had at least a 7-second intro. He had to do whatever business was necessary -- tag a spot, quick weather, plug another jock, whatever -- name the title and artist (to prove to me that he had recognized it), and hit the vocal. Which he did every time. Seamlessly. As if he had planned that song weeks before. There was no way to tell that the song had been a complete surprise to him.

During that summer of '74, he'd occasionally ask me to narrow the curtain on the control room side of the glass between us. Rather than seeing the whole control room and the hallway outside the door, he'd see only me. I knew then that it was going to be a busy night of "classic" George...and those are some of the best memories that I have of working at 'FIL. As WABC loomed, he sometimes said to narrow the curtain but also to close the control room door which otherwise was always open, and he'd tell me some of the happenings with WABC. It was an honor.

To whoever decided to put me on that shift: thank you! It was a privilege that I was too young and cocky to recognize or appreciate at the time.

Rest in Peace, George. And, Thank You.

And that last song on his last night on 'FIL where George stepped on the vocal of the long version of "Ain't No Mountain High Enough"? I think it was my fault. I still remember that the stopwatch I used to get the full intro up to vocal (it was on cart and only the time to the big post was shown) had intermittently been jumping up to three-quarters of a second when it was started. I think it jumped when I timed the intro to vocal, and I didn't notice it in the frenzy that was George's last night at WFIL...so I gave him the wrong intro time. George, I'm sorry.


Joe Gallagher

Oh...MY...God.

Yeah, I had this flash last night after hearing that George had died. When you think about the history-making union we all had created at WFIL, it shook me to think of my own mortality.
I am still at it, performing at a few airshows, avoiding radio like H1N1, and pedaling my pipes to whomever pays the freight. That and Showline Promotional Products, which I co-own, is keeping me out of most trouble.
If anyone feels the need to call, my number is right there. I am happy to talk to anyone on earth.


Frank Kingston Smith

Frank Kingston Smith - One Fine Announcer
480-607-1110; FAX 480-607-1112





What a rush of great memories!

George Michael, BOSS jock, you are in my prayers, rest in peace.

I was his engineer for many years at WFIL...lots of fun times and hard work. I miss those old days and the great show we put on-air.

Holiday prayers and best wishes to all.




Steve Drucker

George Michael was such a big help to me. I was flying blind when I first got to 'FIL. The PD who hired me was

not a fan of mine. As I've heard, the PD was taking so long making a decision on who would be the 9A-12P jock.

So, that the decision was taken out of the PD's hands. It could have been George Koehler. Koehler and the PD began

listening to audition tapes and my tape was the first played and Koehler said, "hire him." That's how I wound up at

WFIL.

As far as support and giving me the fine points, the PD gave me next to nothing. George saw that I was floundering

and he took me under his wing and gave me the lo-down. It made such a difference.

I spent 14 years in New York at CBS-FM and, I can honestly say the best time I ever had in Radio as a jock was my time at WFIL.

WFIL was a family. We all got along. Working with and later for Jay Cook (absolutely the best), my good buddy, JJ Jeffrey, Dave Parks, Dr. Don, Tom Tyler, Long John Wade, Blaine Harvey/Dan Donovan, Jerry Donohue, Allen Handley and Steve Drucker. What a crew.

But, the guy who stands out the most was King George Michael. He really was a star. Rest in Peace.

Dick Heatherton

If we are lucky, we all encounter people in our lives who can change our lives. George was near or at the top of my list.

In the wake of his untimely death, there are scores of us who are the better for meeting and working with him. No one had a better work ethic. Was he rough and gruff at times?...yes. But his objective was always the same...excellence. That expectation of excellence as the norm is one of the great legacies left by the King.

That was the work exterior of George. On the inside was a kind, compassionate man. Although we did not stay close in our years here in DC, every once in awhile, the phone would ring...and it was George ..just checking in to see how things were going , offering help and suggestions.

King George, you were one of a kind, and will be greatly missed.

Now that the holidays have passed and we've had a chance to come to grips with the passing of George Michael, I wanted to share some of my thoughts about what made George such a great radio personality. So many have mentioned his ability to "hit the post." Yes, that is true, but it was such a small part of what made George such a pro. He was more than just a mechanic. He was a well rounded radio "personality."

First, he was exciting without being a "screamer." George was excited to be on the air and excited to have the privilege of having so many people listening to him. His excitement was contagious. When you listened to George Michael, you were exited to hear him, the station and the music. When he spoke about the New York or Philadelphia metro areas, you were excited to be living there. More than anything, George was excited to be alive and he made you feel good. George was creative. Yes, he had his favorite catch phrases. But every time you heard him intro Redbone's "Come and Get Your Love" by saying it was "the weekend national anthem," it sounded like the first time you had heard it and it was still exciting. He was honest and it came across the airwaves. Remember the first time his mic opened on WABC? "Am I nervous? You bet'cha I'm nervous." People have commented about how George was an innovator and pioneer in sports journalism. But he was also a trailblazer when it came to Top 40 radio. Many of the jocks from the 1960s looked at their jobs as simply going on the air for 4 hours and sounding cool and hip. George looked for ways to be better, studying radio, the artists and songs, and the community. As radio changed during the 1970s, many of the 1960s jocks became dismayed and disgruntled. George used to say to me, "boss, I will never have a take the money and run attitude." (I hated being called "boss," but it was part of George's Midwestern vocabulary).

As long as I worked with George, he lived-up to his credo. One of the Washington, DC obituaries mentioned what a great storyteller George Michael the sportscaster was. That really resonated, because George Michael the radio personality also was also a storyteller. Listen to his airchecks and you will hear another facet of what made George so darn good. He wasn't a time and temp jock. Much of his material was story telling, stories about the artists, the songs and about life. That's a tall task over a 10 second song intro. It has been said that Dan Ingram was the king of the 10 second wit. Well George Michael was the King of the 10 second story. It was my honor to have worked with George Michael and I'm sure everybody else at WABC feels the same. His voice will live forever in our hearts and minds.

Glenn Morgan
Former Program Director
WABC Musicradio 77

Hi, Everyone!

This note is overdue, I know, but you all deserve a standing ovation. You are still the most creative group of people in radio and all media.

This wonderful thread of emails, began with your most sincere thoughts and feelings on the passing of George Michael... and our beloved Jim Nettleton.

I feel your sadness. We all realize that one by one we are losing not only great friends, but the giants of radio, or what I call REAL radio.

The email thread took on a life all its own, one that both excited and inspired me.

Although radio has certainly evolved in a way that is, at the very least, disappointing- the ideas you guys shared are awesome and may not be totally impossible.

Since financial survival is crucial, especially now, the execs are even more cautious and less open to "new ideas", which we know, are not new at all. Get one person excited about your radio station and give your personalities even a little room to shine and you're on the way to success.

Most important is a great sounding radio station... and good, old-fashioned customer service. Talk with your listeners like friends. Treat them like family, but with more respect!

Have fun with them and cry with them when necessary. Get involved with the things that are important to all of us who live in a community- be the community. On the phone, I ask,"Where do you live?" If they say Philadelphia, I ask, "Which neighborhood?" We all enjoy having a friend in the neighborhood and on our street. Be that friend.

Now give them a good time and have fun with them! Even if you talk for ten seconds, leave 'em with a smile.. or a riveting piece of information.

Facebook is an example of how many of us have another "community" in which we spend time.. lots of time! Many of you are also my FB friends. The global village is right there and you're a part of it.

My station is online, via our web site, 24/7. We have listeners from all over the world, and a big online audience right here in the Delaware Valley.

Gently using my Facebook page to direct even more people to our station or web site, has been lots of fun! The immediate feedback is incredible!

To win in radio, one must realize that, although radio has changed, it can survive. Embrace all the new and exciting electronic tools you have at your fingertips. Yes! Give the listeners a reason to hang in there with you! Entertain and inform them! Make them feel like part of the family- because they are!

As you can see, I'm still passionate about radio. This passion was born back in those golden days of radio, which gave us George Michael and Jim Nettleton, and so many of you.

Here's to all of you who have entertained, encouraged and even educated me. Thanks for sharing your great ideas! I loved reading them.

I hope to see you at the next 'FIL reunion, which Mel says is next year.

Mort, you're wonderful! Thanks for caring about all of us!

And thanks to Ron Turner for immortalizing us on his website.

I wish you a happy and healthy New Year, and may all your dreams come true.

Leigh Richards

Site Navigation
WFIL Record Album Covers
The WFIL Boss Chicks
WFIL Boss Jocks
WFIL Memories
Where Are They Now?
The 1975 Helping Hand Marathon Featuring, John Lennon
Jim O'Brien Tribute
WFIL Engineers
WFIL News Team
Here Comes The Prize Patrol
WFIL Scrapbook Page 1
WFIL Scrapbook Page 2
WFIL Scrapbook Page 3
WFIL Scrapbook Page 4
WFIL Scrapbook Page 5 - The Mel Klawansky Collection
WFIL Scrapbook Page 6 - The Randy Roberts Collection
WFIL Scrapbook Page 7 - The Gene Vassall Collection
WFIL Scrapbook Page 8- The Bruce Northwood Collection
WFIL Scrapbook Page 9
WFIL 2002 Family Reunion
WFIL 2006 Family Reunion
WFIL 2011 Family Reunion
WFIL Surveys
The Boss Is Back?
WFIL Aircheck Index (Listen To Your Favorite Boss Jock!!)
WFIL Jingles (The Song Between The Songs!!)
Sounds Of Philadelphia
My Favorite Radio-Related Websites