2002 WFIL Family Reunion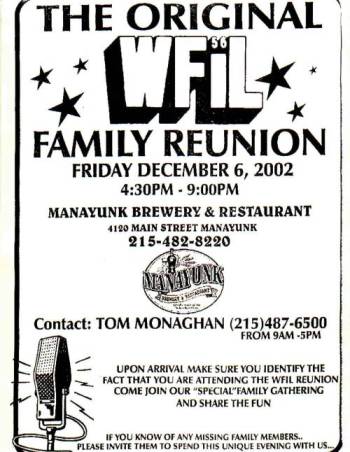 This was a night to remember, especially for me. The event was held on December 6, 2002, at the Manayunk Brewery Restaurant in Manayunk, Pa. Despite a early winter snowstorm that occurred on December 5th, over 100 people were able to attend. Below are a series of pictures of some of the former air talent, with "yours truly." Click on any for a full size image.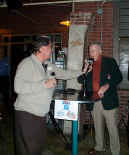 Former Engineer Mel Klawansky & Account Executive Tom Monaghan Welcome The Crowd
Long John Wade & Webmaster Ron Turner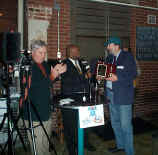 Long John Is Presented With An Award, From Wayne Cummings, A Former Student Of John's Broadcasting School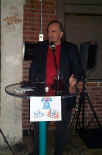 Banana Joe Montione Remembering The Late Jay Cook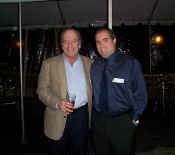 Jim Nettleton & Myself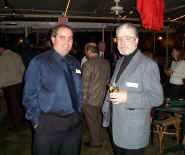 Ron Turner With Former Engineer Bruce Northwood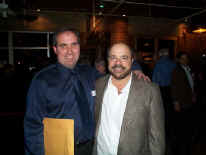 Myself Along With Former Program Director Jay Meyers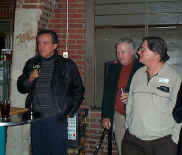 Former WPVI Sports Anchor Joe Pellegrino, With Tom & Mel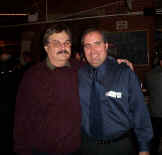 Dick Fennessy & Me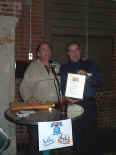 Mel Klawansky Presents Me With a Special Award For My Website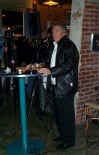 Former PD Dean Tyler, Who Is Now PD At WPEN In Phila.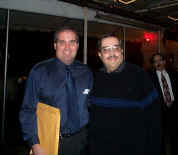 Myself & WFIL Newsman Dave Madden, Who Now Works On KYW, In Phila.
Former Boss Chick, Joyce Haverdink Klawansky, With Banana Joe And Me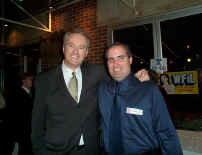 NBC 10 Anchor Larry Mendte & Me. Larry Was An Intern At Famous 56!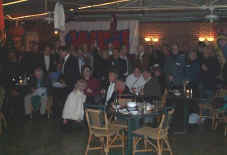 Everyone!!
In addition to those pictured, The following were also in attendance;
Gene Vassel, Allen Stone, Bruce Holberg, Carol Harris, Frank Hogan, John Mac, Leigh Richards, Glenn Barton, Alan Handley, Tom Moran, Ray McCloy, J. J. Maura (Formerly Jim Lloyd of WIP), Carolyn Parks, Dave Turner, Howard Eskin, Mike Bowe, Gary Hendler, Chuck Benner, Alex Brock, Phyllis Fisher, Dave Shayer, Michael Nise, Mel & Joyce Klawansky, Ron & Susan Turner, along with many others who were all part of the Greatest Station Ever!!!
In addition Dick Clark, who was unable to attend sent a special audio message.

Site Navigation
WFIL Record Album Covers
The WFIL Boss Chicks
WFIL Boss Jocks
WFIL Memories
Where Are They Now?
The 1975 Helping Hand Marathon Featuring, John Lennon
Jim O'Brien Tribute
George Michael Tribute
WFIL Engineers
WFIL News Team
Here Comes The Prize Patrol
WFIL Scrapbook Page 1
WFIL Scrapbook Page 2
WFIL Scrapbook Page 3
WFIL Scrapbook Page 4
WFIL Scrapbook Page 5 - The Mel Klawansky Collection
WFIL Scrapbook Page 6 - The Randy Roberts Collection
WFIL Scrapbook Page 7 - The Gene Vassall Collection
WFIL Scrapbook Page 8- The Bruce Northwood Collection
WFIL Scrapbook Page 9
WFIL 2002 Family Reunion
WFIL 2006 Family Reunion
WFIL 2011 Family Reunion
WFIL Surveys
The Boss Is Back?
WFIL Aircheck Index (Listen To Your Favorite Boss Jock!!)
WFIL Jingles (The Song Between The Songs!!)
Sounds Of Philadelphia
My Favorite Radio-Related Websites