Jim O'Brien
(1940-1983)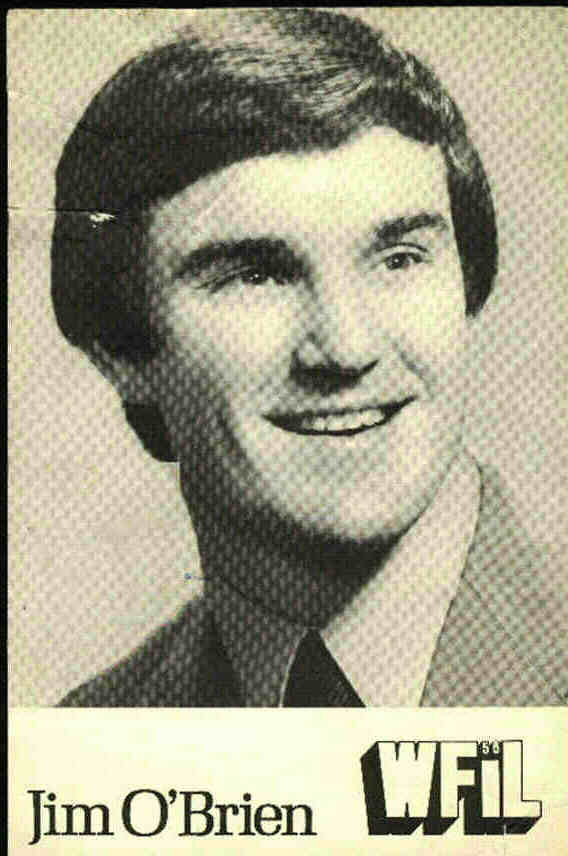 The man from Waco, Texas, who Philadelphia adopted, as one of their own. Jim came to town as a disc jockey, on WFIL, in 1970. He spent 6 years on the air,and then moved to television, to WPVI, channel 6, as a sportscaster. However, it wasn't long before Jim became the "greatest" weatherman, the Delaware Valley had ever seen! No one, not even station management knew what zany antics Jim would do on any given day. Who cared about the weather, as long as Jim told us about it. From "Good Guys In The North", to "Bad Humdingers In The South". Who had ever heard of "Casa Grande", in Philly, before Jim told us about it.

In addition to doing the weather, Jim also was the anchor of "Action News" at noon. This was after co-hosting "Dialing For Dollars" with Connie Roussin Spann from 10am, til 11. Jim could talk about the "count, and amount", like no other. He also was the host of "Primetime", a magazine type show, that aired on Saturday nights. It was rumored that he even sang the show's theme song!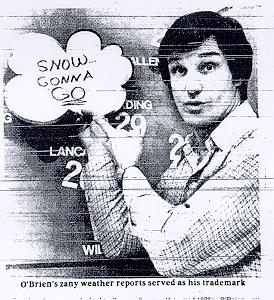 According to those who worked with him, Jim was the most intense, and serious person, they had ever met, dedicated to his own personal success, as well as the company he was working for.When working for WFIL, Jim would regularly visit other jocks, while they were on the air. If you weren't quite up to par, Jim would let you know about it.While some disapproved, most knew he was right, and would try to improve. This helped make WFIL the number one station in Philadelphia.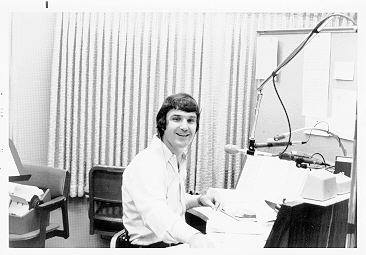 Courtesy of Bruce Northwood
As busy as he was, Jim still found the time to pursue two of his favorite hobbies, Motorcycle riding on his "Chrome Pony", and skydiving. Jim along with his friend, and WPVI colleague, Steve Levy, biked across the country on more than one occasion.

It was Jims' other hobby, skydiving, that would prove to be the one that everyone would remember. On a warm September morning, in 1983, Jim decided to make one more jump. In an area near Pottstown, Pennsylvania, Jim was practicing some "tandem" jumping, when something went terribly wrong. Jim noticed that another jumper was having a problem. Jim tried to help. During a "Freefall", he was able to untangle the other jumper's parachute, which allowed him to drift safely to earth. Tragically, it was too late for Jim to open his chute, and he fell to his death. Jim O'Brien died a hero, giving his own life, to save another.

The whole city of Philadelphia stopped. Shock, and disbelief were everywhere. How could this happen? Are you sure it was Jim? Questions that were on the mind of everyone, until we all heard it on "Action News" that evening. Jim was gone. September 25, 1983.

Click here to hear a clip from Action News, on the evening of Jim's death. (Requries Realplayer)

Just Added Video !

The WPVI 11:00 News From September 25, 1983

Video Encoding courtesy Of The Broadcast Pioneers Of Philadelphia

Jim O'Brien Airchecks

Here are four airchecks of Jim, from his days at WFIL Radio.
WFIL Crossfire - September 25, 1983 - Jim O'Brien Tribute - Hosted By David Madden (RealAudio)
My 40th Anniversary Tribute Of Jim's Passing September 2023 MP3
Jim may be gone, but his legacy lives on in the minds of all of us. His daughter, Peri Gilpin, played "Roz Doyle" on the NBC sitcom, "Frasier".

Peri Gilpin
Site Navigation

WFIL Record Album Covers
The WFIL Boss Chicks
WFIL Boss Jocks
WFIL Memories
Where Are They Now?
The 1975 Helping Hand Marathon Featuring, John Lennon
George Michael Tribute
WFIL Engineers
WFIL News Team
Here Comes The Prize Patrol
WFIL Scrapbook Page 1
WFIL Scrapbook Page 2
WFIL Scrapbook Page 3
WFIL Scrapbook Page 4
WFIL Scrapbook Page 5 - The Mel Klawansky Collection
WFIL Scrapbook Page 6 - The Randy Roberts Collection
WFIL Scrapbook Page 7 - The Gene Vassall Collection
WFIL Scrapbook Page 8- The Bruce Northwood Collection
WFIL Scrapbook Page 9
WFIL 2002 Family Reunion
WFIL 2006 Family Reunion
WFIL 2011 Family Reunion
WFIL Surveys
The Boss Is Back?
WFIL Aircheck Index (Listen To Your Favorite Boss Jock!!)
WFIL Jingles (The Song Between The Songs!!)
Sounds Of Philadelphia
My Favorite Radio-Related Websites